Want to get some pictures of your house or property from the air?
Maybe you are a Realtor looking to give potential buyers the big picture of the homes you have listed.
Whatever your aerial photography needs are, we can help.  Our high-wing Cessna 172 aircraft allows us to take great aerial photos.  We can also fly with the windows open for maximum clarity!
We have two pricing options for Aerial Photography. We can take photos on your behalf, or you can come onboard the flight to take the photos.
Option 1 – We take the pictures – $350/hr – Includes:
Pilot and Photographer and your choice of flash drive or digital download of Pictures
10+ high quality pictures of the area you desire (more time means more pictures)
Pictures run though Photoshop filters to de-haze and improve clarity – originals also available
You only pay for the air-time it takes flying to and from the property, and while taking the pictures, so if it's 30 minutes or 45 minutes, you would not pay the full hour (eg 40 minute flight would be $245+hst).
Camera and Photo Details
Canon Rebel T3i – Standard and Telephoto Lenses
Dimensions – 5184 x 3456
Resolution – 18.0 Megapixels
Average File Size – 4.0-5.5 MB
File Format – JPEG
Here's a small sample of some aerial shots, click on the thumbnail for a larger picture.
Houses & Farms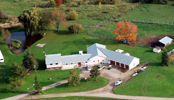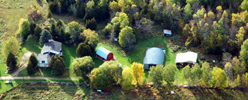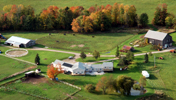 Landmark and Establishing shots
Cottages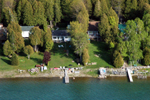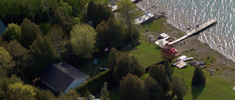 Notes:
We are not professional photographers and don't claim to be, however we are very experienced with taking aerial photos and we know the shots that people love to see.  Before any photo flight we would ensure we know exactly the area you want to see, and from what angles you would like it to be shot.
If you want to see some of the pictures we take on a regular basis, check out our photo albums on our Facebook Page
Option 2 – You take the pictures – $310/hr – Includes:
Pilot and aircraft
Ability to take 3 passengers – restrictions on weight based on length of flight
We will demonstrate how to operate the window as well as safety features for the flight
Notes:
Although you can bring passengers if you wish, we strongly suggest you consider the great potential for motion sickness.  Sometimes getting the right shot means a lot of maneuvering, sudden changes in pitch and roll and repetitive circling at high bank angles.  This tends to make people quite nauseous and leads to not only your passengers not enjoying the flight, but often not getting the photos you wanted either due to the green faces in the back seat.
Try to determine what is more important, a pleasant sightseeing flight with your friends and family with some casual pictures, or specific aerial shots of some landmarks on the ground.  Plan your flight accordingly, don't try to cram too much into one flight, or you may end up with bad pictures and unhappy passengers.
Some things to consider
Time of Year
Summer – See the lush greenery of your property, amazing turquoise water and warm feel
Spring – If you want to see through the trees, Spring might be your best option before the canopy obscures your property!
Winter – It's not all white, there are some really awesome designs made in the winter
Fall – Contrast your favorite place with amazing color, best shot in late October and early November.
Day to Day Conditions
Morning and Evening – the shadows from sun sitting lower on the horizon can add nice contrast to your photo.  Consider the direction you want your property shot from primarily, and put the sun behind the photographer to minimize glare.
Afternoon – Nothing illuminates the amazing water colors like the mid day sun.  The blues and greens of the great lakes really pop in these conditions, making for a great shot for waterfront properties.
Overcast – A lot of photographers will tell you they actually prefer cloudy conditions as there is great contrast and options in post production.  Run through some pictures with a program like Photoshop to boost color contrast and get rid of haze and you can get some amazing results.  Even a simple black and white change can make things dramatic!