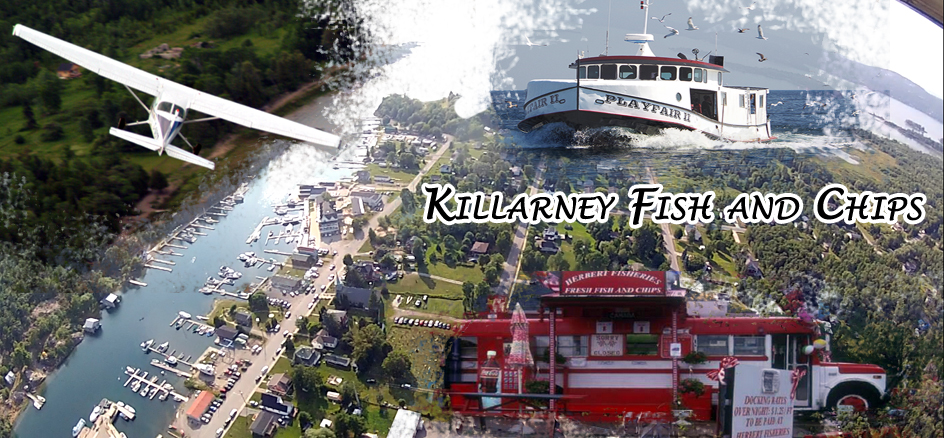 Take an amazing trip up the Bruce Peninsula to the quaint little town of Killarney, Ontario and enjoy some of the best fish and chips the Great Lakes have to offer at the World Renowned Herbert Fisheries!
This Charter Excursion Includes:
1 Hour 15 Minute Flight From Owen Sound To Killarney
Transportation to and from Herbert Fisheries for Fish and Chips
3  Food Vouchers @ $20 ea.
2 Hours wait time for lunch
1 Hour 15 Minute Flight From Killarney to Owen Sound
What you will do:
Depart Owen Sound and head North up the Bruce Peninsula
Cross Georgian Bay at Tobermory
Fly over the Eastern edge of Manitoulin Island
Land at the Killarney Airport
Take a quick 5 minute car ride into town to Herbert Fisheries
Eat some amazing Fish and Chips by the water side
Return to Owen Sound on another amazing flight with breathtaking scenery
How it works:
When purchasing this Charter Excursion online you will receive a gift certificate in the mail, as well as 3 food vouchers valued at $20 each, that you can use yourself, or give to someone else.  Just call Owen Sound Flight Services to book your excursion!
Of course you can call us, or drop in to purchase this package and we would be happy to tell you all about it!
Want to preview the flight? Check out this video we made on a recent trip to Killarney!
Conditions:
This package is for up to 3 passengers, however it is based on a weight restriction of 500lbs between the passengers and their baggage.
Weight limit – 500 lbs.
Flights can be booked on the same day subject to availability.
No Minimum Age
The weather should be optimal for the duration of the trip.  In order to cross at Manitoulin Island, we require cloud height to be sufficient enough for us to climb to a suitable altitude.  Your pilot will discuss the effect of weather as the flight date approaches.
Gift certificate will not expire, however the value is guaranteed for 1 year from the purchase date, after which time if our rates have increased due to the rising costs of fuel or other factors, you will be required to pay the difference.
Each Meal voucher is valued at $20.  You can choose from The Menu at Herbert Fisheries for what you would like to eat.  We recommend the Adult Meal and a drink, which includes 3-4 pieces of whitefish/trout, small fries and coleslaw.
Price:
$699.00 +hst for 3 People!